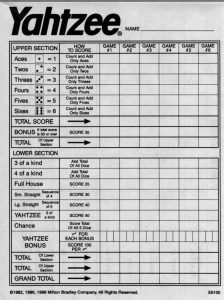 Cognitive Physiological Affect
At Danville for the second time, we were again in the Mac room with the women's unit.  The consumers were a bit more shy about asking us to play games, but we were lucky that one young consumer approached us and asked to play Yahtzee.  There were five Bucknell students to one consumer at our table because not many consumers had come to the Mac room.  The consumer we were with seemed excited to interact with us after we had chatted for awhile and tell us about her day at the job center.  She told us that consumers are able to learn about job possibilities and earn money so that they can pay for small things, like a 25 cent breakfast.  Although she did not make much eye contact, it seemed like she was proud of herself for being a productive worker.  I thought it is really great that she feels empowered by work and self efficacy.  
Towards the end of the time, we asked the consumer about Halloween.  This led us to talk about the weather and being outside since it was still warm and sunny.  The consumer told us her "out card" privileges had been taken away.  Without expressing much emotion, she informed us her card was taken away because she had self harmed.  She explained that self harm leads to privileges being taken away, and this has happened on multiple occasions to her.  She lifted her shirt to show us a large scab (about the size of my fist) on her stomach.  We were all shocked by this, but she handled the situation in a matter-of-fact way.  I was curious what triggered this response.  Self harm and privileges being taken away would seem to cause an emotional response.  I am wondering if she is desensitized to telling the story or even the cycle of self harm and punishment.