After visiting the Danville State Hospital, I was unsure with what to expect. On the tour, we were shown some facilities and saw some patients, and it honestly reminded me of a nursing home. When leaving the tour, our class was shown some of the old architectural aspects of the hospital and were told tales about the hospital's involvement with the Underground Railroad. In addition, we were told a scary story about a ghost that haunted the hospital. As a result, I started to think of the hospital as an old scary place. I was wrong.
Coming back for my first visit, I entered with the preconceived notion that the patients were going to be anti-social. This changed when I played cards with two consumers and some girls from class. I was completely shocked as I observed how these consumers were actually very similar to those that weren't in DSH. One of the men I was playing cards with shocked me with their ability to function at a high cognitive capacity. He was teaching me how to play Jim Rummy, and crushing all of us playing against him. In addition, he was talking about how he attended Penn State University, was a Math major and even took psychology courses. He talked about playing video games and even how he used to be passionate about playing lacrosse, just like me. One thing I did notice however was he was always shaking. I wasn't sure if it was because he was nervous, or if it was because of medication or, maybe some other reason. Despite this, I asked if he still played instruments and once he said piano I was super excited. I asked if he would show us since there was one in the room, and he did! From memory, he started playing the National Anthem! As he was playing across the room, another consumer we were sitting with, a much older gentleman, started singing along out loud. I was very surprised with their memory and skill they both presented.
The consumer that started singing was very sweet and passionate. He had a couple of tattoos and was telling us the background on all of them. He loved to talk about his granddaughter and tell us how much he loved her and his daughter as well.  He wasn't as involved with playing the card games as he was talking about his past and his family. However, this made me smile knowing that he was happy and had something to look forward to. In addition, the younger consumer we were interacting with showed us a tattoo he has. He lifted up his sweatshirt and showed us his tattoo that was a heart with "mom" in the middle. It was awesome to see his face light up when showing us and explaining how special his mom was to him.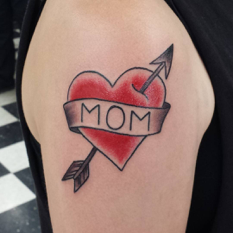 underlined: affect, italicized: physiological, bold: cognitive